Information
[3]
Your Videos
[4]
Your Comments
[5]
La basilica Saint Denis draws the begining of a new architectural age and the birth of Roman Art, or Gothic Art. Started in 1136, by abbot Suger, its construction was completed at the end of the 13th century. The basilica is considered as the first major monument built in a gothic style, and was the model of the next big cathedrals in France, like Notre Dame, Amiens, Reims, Chartres, …

The basilica Saint Denis
The basilica Saint Denis is the French Kings Santuary. The kings Clovis (465 – 511), Dagobert I (603-639), Charles Martel, Francois 1er, Henry II and Catherine de Medicis, Louis XVI and Marie Antoinette are just a few monarchs among those who find their repose here.
Unfortunately, a lot of tombs were opened and emptied, during the French Revolution, and the Basilica was damaged. The skeletons have been recovered in common graves, not far from the basilica, and gathered in an ossuary.
Saint Denis is the Saint Patron of France, and was probably the first bishop of Paris. Sent by Rome, he was in charge, with his companions, to convert the country to Christianity.
There were numerous conversions to Christianity, so many that the priests of all others religions were very worried and asked the intervention of the emperor Domitien in Rome.
Denis and his companions were arrested, with numerous Christians, and showed to the provost Sisinnius Fesceninus. Saint Denis was executed by beheading at Montmartre, in 250. The legend tells that, with the power of God, Saint Denis picked up his head, and walked several kilometers, to the current place of the Saint Denis basilica, named Carullanum.
Access :
Saint-Denis, en Seine-Saint-Denis (93)
1, rue de la Légion d'Honneur 93200 Saint-Denis
M°: line 13, station Basilique de Saint-Denis
RER : Line D, Saint-Denis station
Tramway : line T1, arrêt Basilique
By car : A1, sortie Saint-Denis vers la Basilique
Open :
From april 1st to september 30th – 10h00 to 18h15
From october 1st to march 31th – 10h00 to 17h15
References :
architecture.relig.free.fr [6]
www.ville-saint-denis.fr [7]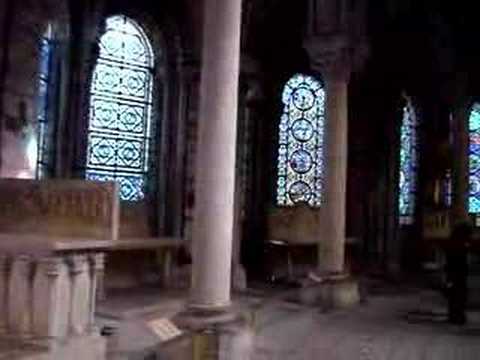 [8]